Heidi Montag, who infamously underwent more than 10 operations in one day, is now sharing the painful memories and emotions of a journey for perfection.
In an ABC Primetime Special titled "Celebrity Plastic Surgery Gone Too Far?" airing last week, the plastic princess said she felt she would "die out of pain!"
"I thought that first night that I came out of the hospital I was going to die out of pain," Heidi Montag recalls now. "I looked like I was hit by a truck."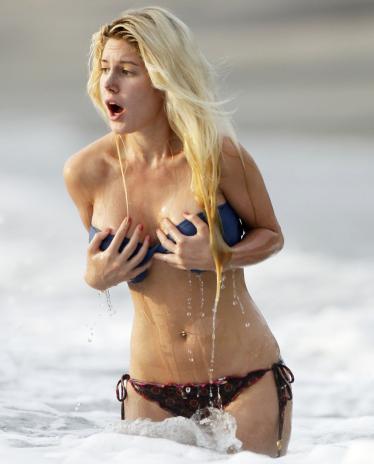 We can't believe it either, Heidi. [Photo: PacificCoastNewsOnline.com]
Montag has now confirmed most, if not all, of her surgeries this year:
Nose job
Brow lift
Chin shaving
Back scooped out
Ears pinned back
Lipo on inner/outer thighs
Fat injected into her cheeks
Absolutely hilarious, FREAKISHLY GIGANTIC breast implants