Apparently John Mayer doesn't always get the girl. Thank goodness.
As if Katy Perry and Russell Brand weren't awesome enough, the zany British comic apparently rescued her from J-Mayer's clutches at the last second!
According to E! News, John and Katy were well on their way to sexy coupledom when Russell intercepted her at the 2009 VMAs and snagged KP for himself.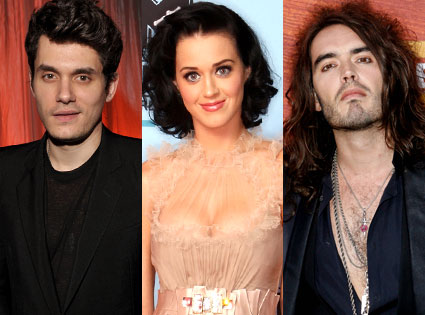 As celebrity love triangles go, this one worked out for the best.
It was love at first sight at the awards show. But just one night earlier, Perry and the
douchebag
met in person after weeks of trading flirty tweets and texts.
"They'd never met in person, and she went to meet him there after she was at a Jay-Z concert at Madison Square Garden," a source close to Mayer reports.
"John thought she was so hot and fun and was into her,"
the insider says
. "They were flirty and all over each other at the bar, they really liked each other."
"They were dancing and it was on."